SOL 78 Contents:
---
---
1. ALA extends Guadalajara book fair "free pass" deadline
The Guadalajara Book Fair—the FIL—is coming up November 30 through December 8, and the ALA's generous Free Pass Program can go a long way toward helping you defray the costs of attending the most important Spanish-language book exhibition in North America. We spoke yesterday with freepassmaster David Unger who assured us that the original August application deadline has been extended to at least September 10. Find your app at the ALA site, ignoring the deadline you'll see there, or better yet contact David directly and he'll fix you up:
David Unger
FIL New York
Division of Humanities NAC 5/225, The City College of New York
New York, NY 10031
Telephone: 212-650-7925 Fax: 212-650-7912
E-mail: FILNY@aol.com
---
2. Bilingual education, and hence libraries, threatened in New England

From: Isabel Espinal

iespinal@library.umass.edu
Subject: please have some coverage of Unz in SOL

Hi Bruce,

I would like to see some coverage of Ron Unz and his anti-bilingual work in your SOL newsletter. There are news stories every day about anti bilingualism efforts in this country: in Massachusetts, Colorado, Nevada, and Pennsylvania. Librarians serving the Spanish speaking have to deal with this issue of backlash against our growth and our language. It needs to be seen as another type of censorship.

-Isabel


Right on. Isabel's chapter of REFORMA has mounted its press release, with good links to Massachusetts-oriented info on this scourge; voters there will be invited to prohibit bilingual education this November. Isabel knows this is not a good idea. And she's not alone.

James Crawford is an educator and researcher who has been tracking language policy issues for nearly 20 years. His website is a terrific place to acquaint yourself with the relevant research and arguments surrounding bilingual education. Here's a tiny sample of what you'll find there:

If the

Official English debate has made any contribution, it has been to highlight our lack of a coherent policy to respond to the new diversity. The 1980s brought a growth of 40 percent in the foreign-born population, 38 percent in speakers of minority languages, and 37 percent in U.S. residents who have some difficulty with English. There is no sign that these trends will soon be reversed, short of draconian restrictions on immigration. Already the social impact is substantial; hence the English Only reaction.

The National Clearinghouse for English Language Acquisition & Language Instruction Educational Programs (NCELA), which used to call itself the National Clearinghouse for Bilingual Education (NCBE), has a page of "Proactive and Reactive Projects for the Fight against the Official English Movement" –effective actions that regular folks can take.

Dr. Stephen Krashen of USC, already a pathbreaking applied linguistics theorist by the time the English-only movement seized his attention, weds passion and clearheaded scientific rigor in his writing about this issue. His work emphatically reminds us of the importance of reading and libraries; below is an excerpt from one of his articles:

If groups calling for English as an official language want to really help immigrants acquire English, I have some suggestions:
1. Help make ESL classes available. Several countries provide free language instruction for newcomers. We don't. ESL classes cost money and often have waiting lists.
2. Support libraries. The most powerful means of developing advanced ability in a second language is wide reading; reading improves vocabulary, grammar, writing style, and even spelling. Libraries provide the prerequisite condition for reading: access to books.

The threat to library services posed by Unz and his disciples is illustrated by a couple scary historical incidents. Ever heard of Monterey Park, CA? It's the first major US city with a majority Asian population. In 1987 the public library there was offered a big gift of Chinese-language books. The mayor and city council didn't want to touch them, so when the library took the books anyway the city government dissolved the library board! Said the mayor, "I don't think we need to cater too much to foreign languages. I think if people want a foreign language they can go purchase books on their own." Ingrid Betancourt told the sad tale in her Wilson Library Bulletin article "The Babel Myth: The English-Only Movement and Its Implications for Libraries" (February 1992: v. 66 n. 6, pp. 38-41).

Then there was the bilingual school in California that purged its library of Spanish-language books. Yep. As Zulmara Cline and Juan Necochea tell it,

"…right after the passage of Proposition 227

—the English for the Children Initiative—an English-only principal of a bilingual school removed all the Spanish library books (supposedly with orders from the central office) because the district had just become "English only." The parents immediately took the case to central office administrators, arguing that removing books from the library was not required under Proposition 227, and that the principal was providing her own interpretation of the new law. The parents claimed that the removal of the books was a blatant attack on their cultural heritage, indicative of the lack of respect district personnel showed for the Latino community…" ("¡Basta ya! Latino parents fighting entrenched racism." Bilingual Research Journal, Winter 2001: v. 25 n.1/2, pp. 89-114).

And if you want to read more about your library's crucial place in the linguistic landscape, a mighty good book is Literacy, Access, and Libraries Among the Language Minority Population, edited by Rebecca Constantino (Lanham, MD: Scarecrow Press, 1998).
---
3. More recent moves by manic monolinguists
This happened just a few days ago. The school board of an Arizona district described as "95% Hispanic" publicly apologized for the boneheaded decree laid down by a madcap administrator. Here's a taste of one article, and if you want to know more you can read another:
The principal of PT Coe Elementary, Lesa Thomas, last week prohibited teachers and students from speaking Spanish on the school's playground, as well as in the cafeteria, hallways and classrooms. According to Thomas, her decision was within the framework of Proposition 203, which was passed in 2001, repealed bilingual education laws in the state…The move by the principal prompted many parents to file complaints, as did many teachers, who were even prohibited from speaking Spanish to parents.
Let's not forget, friends, that Rubén Salazar was killed because he devoted his brilliant career to trying to end stupid stuff like this. A book presenting some of the work of that heroic journalist would be a nice addition to anyone's library.
---
4. In case you still don't see the connection...

Language watchdog Luis Silva-Villar picked up on the bizarre story above and elegantly linked it to the story below

—the failings of the Santa Ana Public Library— in his La Opinión column called "En la cresta de la lengua." His piece in the Sunday, September 1 issue, "No hablen español," is a compelling read for those of you who do.
---
5. Los Angeles Times tees off on Santa Ana Public Library (take a number, willya?)
Remember when Flaco, the surly Simon Cowell of the library world, criticized Santa Ana Public Library for being a dreary desert island of boring librarianship in the Spanish-speakingest major city in the US? If you disliked that article, you'll really hate the much stronger story in Sunday-before-last's Los Angeles Times: "An 'Irrelevant' Library Leaves City Unserved" (Jennifer Mena, Aug. 25, 2002).
Till about Sept 8, you can read it here with the username/password librariansrule/yestheydo (ah, thanks Jessamyn…) Ponder how a library director could call his own system "fat, dumb, and happy," and thrill to the words of city council member Jose Solorio, a Harvard-educated son of migrant farm workers who "would question" whether libraries should buy books that aren't in English (umm, dude—didn't you ever stumble into the Tozzer Library while they were putting you through Harvard?)
If you got here late, email me and I'll rummage through the ol' shoebox and send you a copy of the article free of charge.
Ace Times reporter Mena, bilingual and a library lover (she takes her son to their library in a kayak! They wrap the books in plastic shopping bags, just in case), crafted the story as not a mere exposé but a call to action. And sure enough, a couple hopeful letters (same password, folks) followed the publication of her article.
---
6. Test-drive EBSCO's Spanish-language health database
Scott Bernier, Communications Manager over at EBSCO Publishing, wants you to know that their Spanish-language health database "Salud para Todos" is available for a free trial. It serves up medical information from federal and state agencies, voluntary health associations, drug companies, and other sources. The Spanish-language interface accommodates keyword and subject searches, and offers help screens and search tips. Want to check it out? Email him at epsales@epnet.com
---
7. Sandy Berman Award honors Latino outreach specialist
Flaco spoke to María Menéndez de Moschel a couple days after she received the 2002 Sanford Berman Award in a wild party at the great man's house. The prize recognizes Hennepin County Library workers who make significant contributions to humanity. It was established by affectionate co-workers of the illustrious cataloger, activist, and still-tireless library promoter Mister B.
Menéndez de Moschel brought a formidable combination of knowledge and skills to her work on a grant program targeting Spanish-speaking users and nonusers. Her degree in anthropology, from the Escuela Nacional de Antropología e Historia in Mexico City, and her experience in community development work taught her to act on insights gained as a recent Spanish-speaking immigrant to Minnesota. Menéndez de Moschel paid close attention to what she'd heard from her ESL classmates, and doing library outreach allowed her to draw from a deep well of knowledge about what she calls the "invisible barriers" that separate immigrants from the library.
"It's easy to be intimidated here," she observes. Recent newcomers "are always afraid they won't be welcomed, that they will be mistreated. There is an invisible wall between them and the library, one that we have to break down."
Breaking down that wall, Menéndez de Moschel says, is a matter of instilling three essential feelings. "We have to let them know, first of all, that they are welcome in the library. Second, that they are safe—that it is a safe place for them. And third, they must see that the library has a lot to offer them."
Once these perceptions are in place, she asserts, library use will soar. And that's exactly what she and her colleagues accomplished at HCL's Richfield branch, by identifying key community touchstones, visiting clubs, speaking at meetings, and making hundreds of phone calls. "They now have a big, big Latino population at that library," she marvels. "The computer classes are full, whole families are coming. They are enthusiastic."
Relevant programming had a lot to do with it. Menéndez de Moschel is particularly pleased with a series of legal information conferences: "We noticed people were very confused about immigration, labor laws, family law," so with Spanish-speaking attorneys from the Legal Aid Society the branch organized informative, well-attended seminars. Immigrants grew to see the library as an educational institution that recognized and met some of their essential needs.
Stressing that the outreach program was a collaborative effort, she credits HCL supervisors and coworkers such as Elizabeth Anderson and Virginia Morris—who nominated her for the Sandy Berman Award—for their guidance and wholehearted support. As for the legendary Berman himself, "he's an inspiration for all the librarians who work there. He pushes with such energy in opening the doors of the library to every single person."
Menéndez de Moschel is now poised for a career change, soon to enter the profession of interpreting. You can still reach her by email at HCL, though, if you'd like to ask some questions…or congratulate her for earning the 2002 Sandy Berman Award.
---
8. Ethnic newspapers belong in your library

Sandy Berman, unlike Oscar and Tony and those other award eponyms, is a living, breathing activist who's always doing ten things at once on behalf of library users. The author of Prejudices and Antipathies and co-editor of the Alternative Library Literature series has recently been lobbying Hennepin County to subscribe to local Spanish-language newspapers and include them in the catalog. See here:

July 30, 2002

Periodicals Librarian
CAB/Collection Management Services
Hennepin County Library
12601 Ridgedale Drive
Minnetonka, MN 55305

Dear Colleague:

HCL does not currently get three Twin Cities Latino periodicals, each of which has been steadily published for one or more years:

* LATIN MIDWEST (biweekly; Spanish/English)
* NUESTRA GENTE (weekly; Spanish)
* EL CONDOR (weekly; Spanish)

I heartily suggest that the Library subscribe to all three as a means of both better serving our growing Latino community and documenting its experience.

Once received, these titles should minimally be assigned subject headings for LATINO NEWSPAPERS --MINNESOTA and SPANISH-LANGUAGE NEWSPAPERS.

Looking forward to a prompt reply,

Sanford Berman


4400 Morningside Road
Edina, MN 55416
952-925-5738

Enclosed: Sample copies

cc: Mark Ranum, Chair, HCL Diversity Committee
David Ingham, Southdale Periodicals Librarian
Tammy Pineda, Outreach
Maria Menendez de Moschel, SDSS
---
9. There's a rat in the library
Speaking of free Spanish-language periodicals, one of our favorites around here is the Los Angeles weekly Telenovedades. Why? Well, not only is it dazzlingly easy on the eyes, but editor Virginia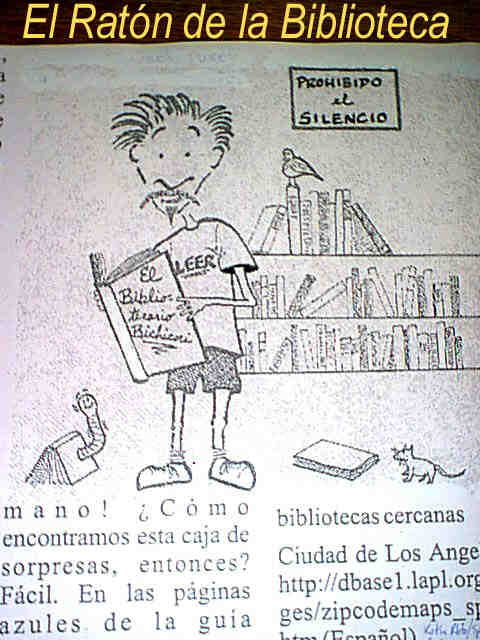 Guti

érrez regularly prints articles that convey the importance of reading and education.

In fact, for the last couple months she's been running the biweekly musings of a gaunt librarian, pictured at left, under the byline El Ratón de Biblioteca.

The columns seek to demystify the public library and make it sound like the rich, fun place that it really is. You'll find them posted on the PLUS site in bilingual format, (watch for more in weeks to come) and you're free to change and use them as you see fit.

Why, here's an idea: why don't you figure out who's publishing Spanish-language newspapers in your town, and then doctor up one of the articles at the PLUS site and see if they want to print it? At the same time, you could follow Sandy Berman's advice and get the newspaper into your collection. Who knows...maybe it'll help bring some more Spanish speakers to your library.
---
10. SOL contest: That darn Henry does it again

From:

Henry Georget georget13@yahoo.com
Sent: Tuesday, August 13, 2002 9:12 AM
Subject: Contest

Hi, flaco:
Here are my answers:

1- what's an ozomatli?
A monkey

2- What language is that?
Why, nahuatl of course!

And what's a borrowed word from that language, a word that we English speakers use every day?
Chocolate would be my guess, mmmmmmmmmhhhh.

Cheers,
Henry Georget

Yep, that quick-thinking Miami smile machine Henry became our first-ever three-time-winner, snagging a lovely set of books from Rourke Publishing which he immediately surrendered to some grateful kids. Thanks to all of you who entered; you're fine people, trying to win $77.70 worth of books for your littlest library fans. Some entrants dug pretty deep for interesting borrowings from Nahuatl. Think of your Aztec brothers and sisters whenever you say coyote, ocelot, chile, tomato (or toMAHto; now you know that even the Gershwins owe a debt to the Mexica), and, well, Radio Shack.

That's right—evidently a word for a kind of hut, xacalli, was embraced by Spanish as jacal and by English as shack. And in case you're wondering, a Nahuatl speaker might call your library an amoxcalli.

Remember that this whole fun contest started from the name of the band that took home Alma Awards this year as the Outstanding Latin Group and the Breakthrough Group of the Year. Watch for another big giveaway in SOL 79.
---
From: "Susan Shaw"
sshaw@sanantonio.gov
Subject: Editing your vocabulary pages?
Dear Bruce,

A committee of the San Antonio REFORMA chapter is putting together a notebook, which we hope will be used at public service points throughout the public libary system. We'd like to use a lot of your vocabulary pages, but would like to make some changes. One would be to eliminate the pronunciation guide in the third column. (We don't think it very accurate or useful . . . but maybe that's because we live in San Antonio?) Another would be to enlarge the print and to shift the text in the remaining columns to fill in the space left by eliminating the third, right-hand column.

Would you allow us to do these things? Still crediting your site, of course!

Which is wonderful.

Susan Shaw
Telephone Reference/Media
San Antonio Public Library
210-207-2500

sshaw@sanantonio.gov
Folks, that's always been the purpose of this website, dig? Take whatever you want, and adapt it to your local situation. See what it says at the bottom of every page? "Anti-copyright." As long as you're not trying to turn a buck, it's all good.
See, if Flaco were to scarf a donut every time a US librarian says, "Hey, look what we just invented— the wheel!" he'd have to find himself a new nickname.
And Susan's message arrived while the thin man was reading a fascinating book called Spanish In Four Continents: Studies in Language Contact and Bilingualism (ed. Carmen Silva-Corvalán; Georgetown Univ. Press, 1995). Is San Antone Spanish different from LA Spanish? Of course it is—MaryEllen García's study in that book will show you that it's even different from El Paso Spanish. And if you go to Arlen, TX, Peggy Hill will shove a whole 'nother kind of Spanish in your ears.
These are web pages, kids, not stone tablets. That's the beauty of this whole arrangement, no?
---
12. Chumash Heritage mural in an online bilingual gallery
We're happy to present a photo gallery, captioned in Spanish and English, of a marvelous mural at the Blanchard Community Library in Santa Paula, California. Web whiz JC López, library director Daniel Robles, and phathead photog Flaco put their noggins together to create this exhibit, and they think you're gonna like it.
Why not take the scenic route? Get there by way of the library's great Spanish-language website, another exemplary José López creation.
(But if you'd rather see a really bad Spanish-language library website, take a look at this one.)
---
13. Wanted: a bookmark that will clarify loan policies
From: Ruth Mitchel Ruth.Mitchel@ci.corvallis.or.us
Subject: Let me tell you about my great bookmark idea
In our community, we need to let the Latino public know that the books are on loan and are not a gift. In our library brochure we say that library materials are free without explaining that the materials are not gifts but that borrowing is free. Also we'd like to get the word out that a key to getting the materials returned is to keep them in one place in the home. Some families are dealing with fines or lost materials charges because one family member checked out items and now no one knows where they are.
Ruth H. Mitchel, Youth Services Librarian
Corvallis-Benton Co. Public Library
645 NW Monroe Ave.
Corvallis, OR 97330
(541) 766-6784
Ruth.Mitchel@ci.corvallis.or.us
How about it, folks? This kind of loss is problematic, since a huge fine can sour an entire family on libraries forever. Does anyone have ideas for such a bookmark—or, better yet, one you've already made and distributed? Check out our bookmarks and send us your thoughts.
---
A shamefaced Flaco wants you to know that his article in the current (Aug. 15) ish of Library Journal ("Accent on English: Tools for Learning") suffered some astonishing changes at the hands of its editor.
The first sentence, for example, proclaims that "non-English speakers are everywhere." That catchy turn of phrase, as pejorative as it is nonsensical, wasn't my idea, friends. The term was "non-native English speakers." Tell all your local speakers of non-English that I meant them no harm.
I also didn't write that ESL teaching moved from the abstract to the practical since 1992…nor was it I who dreamt up that stuff about English as a Living Language and so forth.
What I did write was that ESL collection-building should go hand-in-hand with increased attention to materials in the native languages of the people who use your library. And that first-language literacy strongly abets ESL learning.
Somehow those evidently disturbing ideas were cut to make room for stuff about needing to know English in order to "participate more fully in American life"…sigh…anyway, it all goes to show that getting through to the Ron Unzes, and the Lesa Thomases, and the Jose Solorios of the world will never be easy...never has been...but I've got faith that you won't stop trying.
---
Bruce Jensen flaco@sol-plus.net
---
Anti-copyright @ 2002 www.sol-plus.net. Not-for-profit use encouraged All other rights reserved.