---
I am trying to find a simple, low-level notice in Spanish to warn people to use a door only in case of emergency. We've had several cases where people have tried to go out a door and the alarm has sounded. Any suggestions would be greatly appreciated. Thanks.

Lisa
Elisabeth Rowan, MSLS, Medical Librarian
Shriners Hospital for Children
1900 Richmond Road, Lexington, KY 40502-1298
vox: +1.859.266.2101x1299 fax: +1.859.268.5636

Hi, Lisa. Thanks for writing in.

An industrial signage company offers free downloads in PDF format. This one is almost TOO eyeball-grabbing.

I've got a simple signage page, not PDF though. Yours is abt halfway down the page:
http://www.sol-plus.net/plus/signs.htm

If you it's important to you to include all the details about how the alarm's gonna sound, you can print or buy #42844 at
http://www.emedco.com/emed2/prodGroupSTgrid.asp?dept_id=3522

Wishing you lots of tranquil, alarm-free days--
---
2. How to squeeze out funds for vernacular PR materials?
Hi!

Fans of SOL have helped me out in the past--I would like to try collective wisdom again!

I am keen to know how other public librarians were able to demonstrate to their administration the need for a publicity/marketing specialist for handling Spanish language publicity and marketing efforts.

It seems to me more is needed from library system publicity than simply translating the English copy items and posting them around the community. But how to state the case successfully to administration?

In systems that have had some success, how did you do it? What was key to making your case? Mostly census info? How did you succeed in presenting the case for tailored (not translated) copy?

Thanks!
Judy Falzon
---
3. SOL discussion board debuts
Date: May 29 2003
From: Martha Garcia marthagarcia01@cox.net
Do you have discussion boards on this website? I don't see any links to any.
Good of Martha to point this out. This issue's first two items, and its last, illustrate the utility of her suggestion: those questions, posted to the new, long-overdue SOL discussion board, would enjoy more rapid and thorough attention. Please do sign up
—it'll take about half a minute, and you can easily control how messages are delivered, or not delivered, to you; it's a low-impact deal and another painless source of help, along with the REFORMANET listserv. When you have a question related to Spanish-language library services, remember you're not alone. So ask away.
---
4. REFORMA formalizes link with Mexican librarians
A lot of good things have happened at REFORMA during Ben Ocón's tenure as the group's president. It might turn out that one of the most important will be the recently inked accord between REFORMA and Mexico's oldest librarian's organization, AMBAC, which has more than 500 members.
See, this commitment to cross-border cooperation opens up exciting possibilities for your library. Take a look at the document and you'll surely get ideas about ways to make good on its principles of, for example, exchange of useful library information in both languages, and establishment of sister library programs. Writing and signing the treaty was a big first step; now, it's up to folks like you to bring its intended benefits to library users. If you're wondering how to get started, REFORMA International Relations Chair Hector Marino is your guy.
---
Solina brightens up the pages of Public Libraries
The indefatigable Solina Marquis has put together another terrific website, this one bilingual with links to sites in Spanish. It's called ¡Encuéntrelo en la Red! and she notes that it might eventually migrate to a different server
—so if you're joining us late, find it using your favorite search engine. The site features two major sections:
Centro de Ayuda con Tareas Escolares
(homework help center) and a collection of subject pages for adults with topics like health, immigration, parenting, and others. People just looking for a good time will appreciate a page for both parents and kids,
¡A Divertirse!
As if all that weren't enough, the current (May/June) issue of Public Libraries has the second part of Solina's exhaustive article "Collections and Services for the Spanish-Speaking: Issues and Resources." This one's a must-read piece, kids.
---
6. MC Review permits skinny gadfly to mouth off
Speaking of good reads, the quarterly Multicultural Review is now giving us in every issue more than 150 reviews of books and other media, always seeking to foster a better understanding of ethnic, racial, and religious diversity. Isabel Schon's annual overview of her favorite Spanish-language titles for kids and teens is one of many good reasons to pick up on MCReview. If you begin your subscription with the March issue you'll get Flaco's article, "The Monolingual Cataloging Monolith: A Barrier to Library Access for Readers of Spanish" on fine glossy paper. That article's on the web, too, but with the magazine you get the shiny paper and the 150 reviews and stuff.

---
7. So many new books, so little money
Flaco is afflicted with verborrea, as you know, and yet another place where you can find his twisted phrases is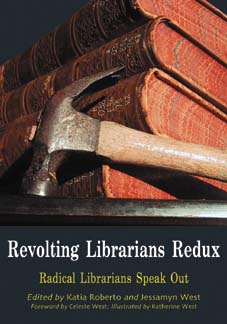 in the hot new book Revolting Librarians Redux. Ace cataloger—and recent SOL contest winner—Katia Roberto edited this baby, along with the divine Jessamyn West of librarian.net. The book's got pieces by Sandy Berman, Chris Dodge, and a whole hatful of other library heroes of ours, including a bunch of the folks who contributed to this volume's classic 1972 predecessor Revolting Librarians.

Elsewhere in the book world, Floricanto Press recently released Online Information on Hispanics and Other Ethnic Groups by Roberta Medford and our ol' friend Eudora Loh. The blurb describes it as, and we quote, "The most complete directory of state agency databases located in 10 states with the largest Hispanic and minority population. Each entry includes name, addresses and phone numbers. The directory includes a wide range of statistical, documentary and other pertinent data on Hispanics, Blacks, Asian-Pacifics and other ethnic groups in the United States. This title brings together for the first time the revelation that, next to the U.S. Bureau of the Census, a myriad of state agencies collect and maintain daily data on ethnic groups on areas such as criminal records, education, employment, health, social services, economics, income, vital statistics and many more."

And then there's this gem:

I'm proud to announce that after 10 years of research and a year of writing, Revolución: Cuban Poster Art has been published by Chronicle Books. Here's the promo blurb:

"Produced with unprecedented access to Cuban national archives, this book assembles nearly 150 of these powerful but little-seen works of popular art. From the 1960s through the 1980s, the posters rallied the Cuban people to the huge task of building a new society, promoted massive sugar harvests and national literacy campaigns; opposed the U.S. war in Vietnam; and celebrated films, music, dance, and baseball with a unique graphic wit and exuberant colorful style. Includes an introduction illuminating the rich social and artistic history of the posters and biographical information on the artists themselves."

I have also posted a web page with an introduction to some of the material at http://www.lib.berkeley.edu/~lcushing/CubaGen.html

I'm encouraging people to buy it at their local independent bookstores. In the San Francisco Bay Area, this includes Black Oak (where I will be doing a reading Monday, June 30) and Cody's, where UC librarians and faculty are eligible for a 20% discount. For those who wish to order on line, I recommend the ILWU workers website of Powell's Books, http://www.powellsunion.com/

Also, for those of you going to ALA, I will be presenting a set of books to the Cuban library delegation and am bringing along a stack of books to raise funds for efforts to normalize relations with Cuban libraries. See you in Toronto!

Lincoln Cushing,
UC Berkeley IIR Library
---
8. Cambridge University Press en español
Look, you don't need to feel trashy just because you ordered Olga Wornat's La Jefa, the unauthorized biography of Mexican First, uh, Lady—and possible future presidential candidate
—Marta Sahagún de Fox. After all, it's a
breakneck best-seller
in Mexico, the book that everybody's talking about. But if you think you oughta buy something less gossipy and scandalous just to balance things out, those deep thinkers over at Cambridge University Press are ready for you, with their recently unveiled
Spanish-language catalog
. Weighty tomes, these, examining religion, cinema, linguistics, philosophy, the sciences, all in translation.
---
We here at SOL are proud that our sumptuous corporate headquarters are in the only US city to officially name a street for Gabriel García Márquez. The ceremony happened last month in Los Angeles' Boyle Heights district. You didn't hear about it, because the LA Times never bothered to mention this, nor did NPR do a story. Nevertheless, it happened. An article in La Opinión notes the presence of Gabo's son Rodolfo and a whole bunch of third graders from a local school whose enrollment is 95% Latino. One of the girls quoted in the piece thought the Colombian Nobel laureate was famous for writing soap operas, but her pals set her straight in a hurry.
García Márquez Street is the stretch of what used to be called Clarence Street between Mission and First. Wanna make a pilgrimage? Here's your map.
---
10. LIBRUSA opens Mexican branch
We told you before about LIBRUSA, an online and up-to-the minute literary magazine that gets better all the time. The latest brainfruit of visionary founder José Carvajal is the new sister site LIBRUSA México at http://www.librusa.com/mexico.htm
Recent news items posted there:

Guadalupe Loaeza's Los de arriba (published by Plaza & Janés) is selling like pan caliente in Mexico: more than 30,000 copies in its first few months

A few weeks ago more than a thousand people gathered in a Guadalajara plaza to read and listen to the words of Julio Cortázar for 12 hours

And deep in the Mexico City subway is a shopping mall devoted entirely to books, with 42 sellers pushing some 80,000 titles
—the largest book market in the Americas
---
11. Web-based subscription product placement
We don't know who writes our headlines; we outsource them. The rest of this press release is here.
NEW PROVIDENCE, N.J.--(BUSINESS WIRE)--April 22, 2003--R.R. Bowker, one of the world's leading publishers of bibliographic information, has introduced a Web-based subscription product of Spanish language books, audiobooks and videos available at www.spanishbooksinprint.com.
The new product includes a variety of features that have never been offered in the U.S. for Spanish language materials, including access to the only database with in-print, forthcoming, audio, video and out-of-print titles. With Spanishbooksinprint.com, users will be able to locate Spanish language materials published in the U.S., Spain and Mexico that are carried by U.S.-based suppliers...
---
12. Identify adorable creature, win books
By now you should be well acquainted with at least one of these two ravenous characters.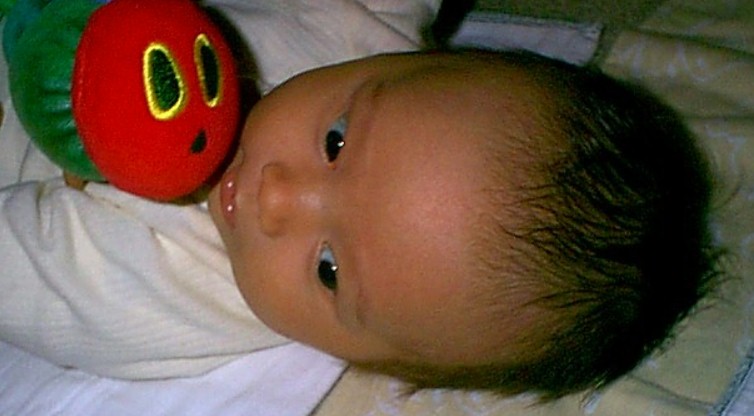 Ryujin Magón Jensen, the larger one, will celebrate his ¼ birthday by making sure his pop sends you fifty bucks worth of bilingual children's books if you're the first alert reader to tell us what Ryu's famous partner-in-gluttony is called in the Spanish-speaking world.
The books are from the independent Wisconsin publisher Raven Tree Press, and they're quarto size hardcover tomes with dazzling full-color illustrations, and Spanish+English on all 32 pages. The Raven Tree folks have some wonderful titles for youngsters, so check their online catalog and pick some out.
Speaking of contests, in the last issue we implied that when good ol' Library Willie copped that copy of La reina del sur, it was her first win in a SOL contest. No way! We'd plumb forgotten that back in July 2000 she triumphed by identifying Doroteo Arango. So Willie is right behind the amazing Henry Georget in the multiple-winner hall o' fame. Flaco not only regrets the error, he's downright ashamed of it.
---
We at SOL want to mend fences with the great state of Idaho, really we do; the hate mail we've been getting from there lately has been a major bringdown. So we're tipping our sombrero, the Resistol with that rakish Sinaloa-style curled brim, to the politicos there who proclaimed April 30 as Día de los Niños. It's the first state in the union to do so.
The governor went to Nampa this year for the big day, and his wife told the kids there that the best way to celebrate Día de los Niños is by reading a libro. Which brings us to the delightful news items below.
---
14. Día de los Niños/Día de los Libros I: North Carolina
"
Asheville fiesta promotes fun, English as a second language," by Paul Clark in the Asheville Citizen-Times of 4/26/2003:
ASHEVILLE - A crowd of children gathered around Victor Ruiz as he told the story of "Goldilocks and the Three Bears" in English and Teresa Linsley recited it in Spanish....
Now, the largest supplier of Spanish-language books in the county is El Bibliobus, the library system's mobile program that takes books to churches, factories, schools and neighborhoods where Spanish-speaking people are...
---
15. Día de los Niños/Día de los Libros II: El Paso, TX
Freshly elected ALA President-in-waiting Carol Brey was on hand to receive a gift of thousands of Spanish-language books from the Mexican consul, reported Diana Washington Valdez on 4/26/2003: "Mexican consul gives books to city library," in the El Paso Times (which, by the way, is getting ready to rumble with the publisher of El Diario of Ciudad Juárez in what the NY Times calls a "newspaper war," as explained in "Shaking Up Journalism in El Paso" by Simon Romero, 5/27/2003; you'll need a commercial database for that one).
---
16. Día de los Niños/Día de los Libros III: Salt Lake City
"Latino Children's Day: Language, Literacy," by Tim Sullivan, the Salt Lake Tribune of 4/30/2003:


Dia de los Ninos/Dia de los Libros is not a household holiday for most Utahns, but today, children and books rule in the halls of Salt Lake City's Jackson Elementary School.
For decades, several countries in Latin America and Asia have celebrated April 30 as Children's Day. Six years ago, author Pat Mora led the REFORMA organization's creation of a U.S. version of the holiday that centers on literacy and bilingualism...
---
17. Día de los Niños/Día de los Libros IV: Austin, TX
This site has a charming photo gallery of the 2003 celebration, as well as a flyer and a press release that might help you in planning for next year.
And for more, more, more on how to celebrate Día de los Niños/Día de los Libros, visit the site of Pat Mora, who pretty much got the whole thing started herself: http://www.patmora.com/dia.htm
---
18. Michigan library workers to study Spansh
This one
is from the 5/30/2003
Holland Sentinel
, up in Michigan:
"Library improving Spanish-language capabilities:
Board plans to have all public service staff go through training program by November,"
by Lesa Ingraham
Spanish-speaking library users may soon see some improvements at Herrick District Library.
Under five goals approved by the library board Thursday, all public service staff will go through Spanish language training by Nov. 1...
---
19. Jerseyites get multilingual computer lab in their library
The Weehawken (NJ) Free Public Library's new computer setup was designed with Spanish-speakers in mind, the 6/1/03 Weehawken Reporter's Jim Hague tells us in "Library opens new computer lab":
...Eric Negron, the library's technical services director, believes that the new computer lab will totally enhance the library, especially for Spanish-speaking patrons.

"We now have four Spanish language keyboards and a Spanish profile that changes everything on the Internet to Spanish," Negron said. "It's going to be a huge help. My mom [Alicia] uses it and she only speaks Spanish. But this makes it easier for people like her."

With the addition of the six new computers, the library now has a total of 19 computers for patrons to utilize and log on to the Internet.

Weehawken Mayor Richard Turner, who was on hand for the grand opening ceremony, was impressed that the new computers will not only feature the Spanish language, but 27 other languages as well...
---
One from a place you don't hear too much about
Never mind that it's smaller than the county where Flaco lives. Folks in the First State
—Delaware—know the importance of computer classes in Spanish. The ones described here by Kent Steinriede in the 5/21/03
News Journal
take place at a community center, but learning tools from the local library are also mentioned: "
Hispanics take steps across 'digital divide': After language barrier, many face computer barrier
":
Three months ago, Esmeralda Gil Casteñeda and her husband, Adan, bought their first computer, even though they didn't really know how to use it. They started experimenting.
"We just pushed the keys," said Casteñeda, who emigrated with Adan 10 years ago from Toluca, Mexico, to Delaware.
For them, the computer is complicated. Everything on the screen and keyboard is in English. Although she speaks limited English, Casteñeda, of New Castle, was determined to learn how to use the $1,200 machine.
First, she borrowed a few Spanish how-to books on software from the library. Then she signed up for a free beginner computer class for immigrant women at the Latin American Community Center in Wilmington.
Casteñeda is crossing the so-called "digital divide" that separates those who use computers and the Internet at home and at work, from those who don't...
---
21. En un lugar de Cyberspace, de cuyo nombre...
Spain's EFE news agency reports an astounding 70% jump over the first four months of this year in readers at the Miguel de Cervantes Virtual Library. The Spanish-language counterpart of the Internet Public Library and Project Gutenberg logged nearly nine million visits in that time period. The most-read book? Why, the Quijote of course...but with 8,000 items that include dictionaries, contemporary works (like the diary of Archbishop Oscar Romero! That's online!), and audio offerings, the Cervantes has something for just about every taste.
---
You can find many publications in Spanish from this website. They can be downloaded or ordered. And in most cases they are free. Use the keyword "spanish" to search. For instance "spanish fafsa."

Dear Valued Customer,
The U.S. Department of Education is pleased to announce the launch of its new ED Pubs Online
Ordering System at
http://www.edpubs.org/webstore/content/search.asp
. As a result of feedback from customers like you, the Web site has been redesigned to better meet your needs.
Enhancements include:
§ A state-of-the art search engine
§ Access to real-time inventory updates and availability
§ One-click access to online versions of most products
§ Flexibility to order multiple titles and up to the maximum limit of each product
§ Ability to setup and customize your profile allowing access to order history and status
We believe you will appreciate the simplicity of the new site and the wealth of information available form the U.S. Department of Education. Whether you're new or returning for the second or third time, we encourage you to visit
www.edpubs.org
today!
We look forward to serving you again soon.
The U.S. Department of Education's Publications Center (ED Pubs) Team 1-877-433-7827.
---
23. Splendid index of daily newspapers in Spanish
From: natxoc@wanadoo.es
Subject: Sugerencia
Hola amigos,
Tenéis una web muy útil y muy buena. Yo por mi parte me gustaría sugeriros una web para vuestra sección de enlaces. Se trata del mayor directorio mundial con todos los periódicos diarios editados en castellano: http://www.prensaescrita.com/
Sure enough: Prensa Escrita is the best index we've seen of online Spanish-language newspapers. These Spaniards and a worldwide team of collaborators have assembled an up-to-date, searchable tool, organized by country and easy to use.
We would like to introduce a free real-time book price comparison service www.AAABookSearch.com