---
1. "I am an angry brain..."

Email lists around the world were sizzling last spring with links to savagely satirical animated cartoons posted at a site called elcerebro.com. As the Iraq invasion followed its deadly course, webheads flocked to the site and snickered at images of world leaders—one, in particular—cavorting, singing, behaving like vicious clowns. José Guadalupe Posada with his engravings stalked similar ground a century ago, making graphic art as astutely insightful as it was entertaining, and rattling skeletons in more than a few closets..
New media spawn new art forms. The political cartoon is undergoing an exciting transformation as it moves into the instant multimedia age; a good guide to animated graphic expression on the Web will show you what we mean. Among the form's most intriguing practitioners, one who has attracted worldwide attention, is a person who calls Posada a paisano.
elecerebro.com is the creation of a young Mexican artist who goes by the name MaklooN. The dozens of animations at the site range from bawdy critiques of pop culture icons to daring send-ups of politicians throughout the Americas.
One of the best appeared during Carlos Menem's abortive bid to retake the Argentine presidency a few months ago. MaklooN cast the crooked politico as a diabolical hip-hop artist in "The Emenem Show" and put a hilariously revealing rap in his mouth; the animated Menem spoke more honestly than his real-life counterpart ever could.
When you visit elcerebro.com, be sure you have Flash installed and your computer's sound turned up. And for a glimpse into the mind behind what you'll see there, here's our recent interview with MaklooN: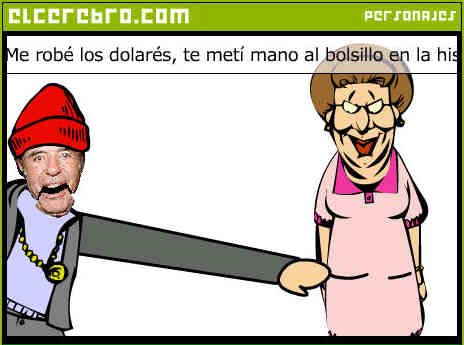 Outlaw rapper and ex-Argentine president Carlos Menem
picks a housewife's pocket in "The Emenem Show"
SOL: Who are you? Please disclose what you think is important, and conceal what you regard as unimportant.
MaklooN: I am an angry brain frustrated with certain aspects of Mexican culture. Politics is the tumor that prevents our growth. And the media is the cancer that drives that tumor. For this reason I decided one day to express my anger the only way I could, and so elcerebro.com and MaklooN were born.
Does that pseudonym have a meaning? Any connection to Marshall McLuhan?
I used to be called that by a French friend I had when I was a kid. She could not pronounce my name correctly and the sound that came out of her mouth was MaklooN.
How did you develop the skills that enable you to produce your Flash animations? What software platforms do you use?
I studied Visual Communications and began specializing in interactive multimedia applications. I mainly use Macromedia Flash MX (www.macromedia.com) and Adobe Photoshop (www.adobe.com) to create elcerebro.com. These programs are really NOT so hard to learn and even with some very basic knowledge of them anyone can began creating work similar to what I do.
What has inspired you to create topical animations?
My inspiration is a very complicated thing. I usually just read the newspaper or turn on the TV for a couple of hours and the inspiration comes to me. Other times I rely on the "cerebrales" (the users of elcerebro.com) and I get inspired by reading their comments and suggestions.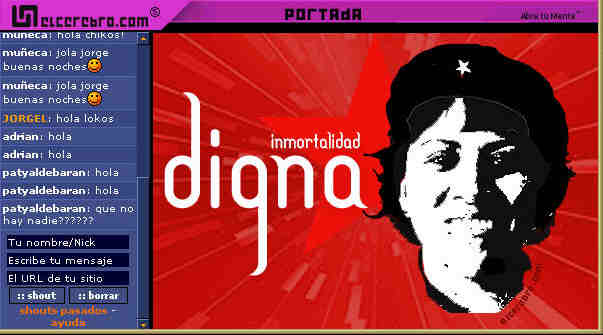 MakloonN's current homage to Digna Ochoa, heroic Mexican
human rights lawyer. Though a new official report again
whitewashes her killing as a "suicide," people know better.
You have a lot of clever, edgy stuff happening on your site. When did you begin creating all this?
I've been playing around with Flash since its beginnings. elcerebro.com was born in January 2002 and the reaction to it has been overwhelming. Of course there is a lot of hate mail and hacking attempts, but in general I have received good feedback from people.
Tell us a bit about your political formation and education. What led you to your way of seeing the world?
I don't really consider myself a very politically conscious individual. If I were, my site would have a strong political stance and it doesn't. This is an important part of the success of elcerebro.com. I believe that the moment I take political sides I will lose track of my purpose, to criticize all political views using basic common sense. As far as my way of seeing the world I don't think I can really answer that since it is a question that many times haunts me.
Which satirists/writers/artists have influenced your style or your thinking?
Quino (Mafalda) showed me from an early age that comics could have a real meaning, both social and political. I also love Gary Larson's (The Far Side) way of twisting the world.
What else do you want to say about the El Cerebro site? I think you've designed it as a forum where others can participate, by programming music shows, displaying their own animations. How much participation have you had so far?
Currently elcerebro.com is a free-for-all forum where users speak (write) their minds and interact directly with me on suggesting ideas for content. An internet radio station is also available where advanced computer users can transmit a "radio" signal and share with others their music and thoughts. As for animations and other kinds of content, I have not yet received any. I think this is due to the fact that life is very hard here in Mexico and people just don't have time to create. I am planning a "tutorial" section on elcerebro.com to hopefully encourage the creation of animations and collages, not just to showcase on elcerebro, but to encourage people to CREATE.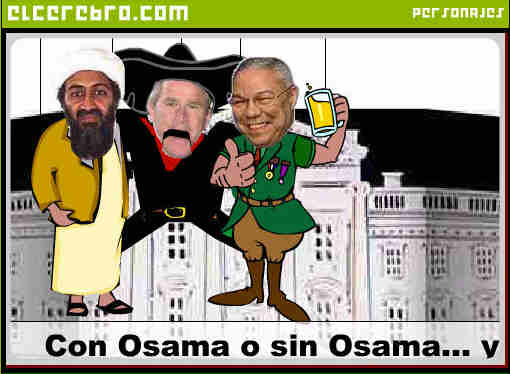 In a stunning goof on a classic Mexican drinking song,
George Bush serenades his pals in "Sigo siendo el wey"
What's next? Do you have some long-term aims in mind?
Next? Well let's see. I get this question asked of me many times, especially by my parents. Of course their main concern is if I will be able to make a living out of this time-consuming hobby. I deal with very sensitive issues on the site and so marketing of elcerebro.com is an impossibility. That takes out any hope for long -term earnings! For now all I'm interested in is to continue creating content for elcerebro.com. I consider myself a "cyberage" artist and nothing fulfills me more than to create my work.
What do you think of the Marta Sahagún book? (La jefa—an unauthorized biography of President Vicente Fox's wife)
I have heard about this book and it sounds interesting. The author Olga Wornat has recieved plenty of free publicity from all the controversy it has caused. Good for her! Nowadays this kind of publicity pays its price in gold!
Who are your favorite bands, and do you spend much time at the Tianguis del Chopo?
Favorite bands? Well, I like to consider myself as a music pantheist: I love it so much that I don't like to "devote" myself in full to any particular style or band. How's that for a political and democratic answer?
_
---
2. Superstars of rock (ska, hip-hop...) en español on new album
The song parodied above, "Sigo siendo el rey" ("I'm Still the King") was written by José Alfredo Jiménez, the legendary ranchera composer from Guanajuato who died in 1973. A new tribute album updates his classic tunes with interpretations by some of the hottest modern artists going. XXX Un mundo raro (that sure-to-be-filtered title was chosen before the CIPA ruling; the XXX refers to the 30th anniversary of Jiménez's death) features Aterciopelados, Julieta Venegas, Elefante, Bacilos, Saúl Hernández from Jaguares/Caifanes, and many more. John Lannert's well-written review in the July 26 Louisville Courier-Journal might convince you to buy this one for your library. It's on the BMG Mexico label.
---
3. Interactive videoconferencing promotes libraries in the desert
The arid Imperial Valley of central Southern California is an agricultural hotbed, bursting with cattle and cantaloupe but not much else that would make it an attractive stop for visiting celebrities. Yet several library systems there enlisted
—through the miracle of videoconferencing—big-name talent to speak and to draw Spanish-speaking crowds to the libraries. Read about
Proyecto Televista
in the latest issue of the online journal of the California Library Association.
---
4. Shocking workplace death rate for Latinos
On July 24, the national radio program Marketplace ran the sad story described (and audiolinked) below. Information scarcity is killing people, folks. Maybe your library can help.
Listen in RealAudio Disturbing trend: Hispanics dying in the workplace
While death rates on the job for blacks and whites are falling, those for Hispanic workers are on the rise. About 890 Hispanics died at work in 2001, an almost 10% increase from the year before. So, what's going on? One problem is language: With a more diverse workforce, workers may not be able to understand bosses' instructions. Next year, OSHA is earmarking more than $2 million for multilingual programs. But some workers' advocates say OSHA isn't doing enough: Its budget for enforcement is growing, but worksite inspections fell 35%in the past 15 years. Others are calling for safety training on all sites, both union and non-union.
Reporter: Maggie Jackson
---
5. Online phone directory with a Spanish-language interface
Your Web site is very helpful. I wanted to let you know about a Web site that can be a great resource to Hispanics and you may want to link to it.

http://espanol.superpages.com/

It enables Spanish speakers to search for hospitals, universities, people, and businesses nationwide, and offers maps and driving directions in Spanish. It has other great Spanish-language content and features as well.
(We've added this online telephone directory to Tu Bibliotecario Electrónico, SOL's popular pathfinder for Spanish-speaking new Internet users)
---
6. Rural Literacy Project starts library in Guatemala
A foursome from Massachusetts hauled thirty duffel bags of books to Guatemala this week and is now busy setting up a library. Find out about the Rural Literacy Project in Kevin Moran's 7/25/03 piece in the North Adams Transcript: "Students to create library in Guatemala."
---
The tireless Kathleen de la Peña McCook, toughest and busiest Distinguished Professor in all of Libraryland, continues to build an indispensable tool for libraries genuinely interested in serving their communities, all of 'em: A Librarian at Every Table is a website that will arm you with facts and resources you can use as you work on behalf of kids, teachers, linguistic minorities, and a growing list of other folks who get an awful raw deal here in the Land of the Free.
---
8. Latest topics on the SOL discussion board
The SOL board has recently had some interesting talk about good periodicals for public libraries, a progress report on Seattle Public Library's community survey efforts, and things you can call a central library in Spanish. So where've you been while all this was going on? Read the board, sign up, post a question or comment...there's nothing to lose, and you won't get spammed.