Statement of Authorship
Last update: September 29, 2009

Except where noted otherwise (as in many of the SOL discussion list postings), authorship of the PLUS and SOL sites and all material therein resides with Bruce Jensen.
→
Jensen completed graduate study at the University of California, Los Angeles in Information Studies (née Library Science).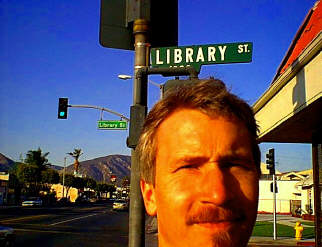 He has worked in public libraries in the US and Mexico, and is currently a reference librarian with OCLC's QuestionPoint (which, by the way, offers service in Spanish) and a systems librarian at South Texas College. Publications include pieces in the magazines Críticas, Library Journal, and RUSQ, and the books The Changing Culture of Libraries, The Power of Language/El poder de la palabra, Revolting Librarians Redux, and Digital versus Non-Digital Reference. His work has been presented at the 10th FORO Transfronterizo de Bibliotecas and REFORMA National Conference II.

In addition to the MLIS, Jensen holds an MA in Teaching English as a Second Language (Northern Arizona University, 1993) and a BA in English (University of Washington, 1985). He has taught ESL off and on since 1992, working with immigrants, college students, and inmates in the US, Japan, and Mexico, and he has a pocketful of library cards from all those places.