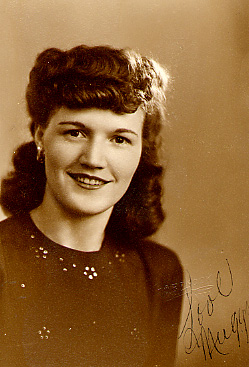 Today's the birthday of Scotty Gómez, the Chicano hockey jefe (see SOL 27) and of your humilde servidor. Pictured at left is the woman who did all the hard work on that fateful solstice when Baby Flaco bounced onto the scene. The family's youngest escuincle inherited his mom's stubbornness but not, sad to say, her sublime good looks.
Now she's gone. She died a couple weeks ago. She was one of those sweet moms, the kind of mom a guy feels lucky to have watching out for him. I'll bet you know the type.
...por eso quiero decirte con simples palabras
gracias, ...gracias por todo querida mamá...
–Gabriel Juárez, "Para mamá"
Margaret Jensen 1921-2001
SOL 69 Contents:
---
December 23, 2001

Leave it to librarians to figure out this storytelling business and do it up right, whatever the format. StoryPlace.org is a dazzling site that leaps right outta the screen at you and the kiddies with its delightful graphics and animation, its music and entertaining sounds, and its fun interactive content.

See for yourself as you explore their vast Spanish-language section. You might begin with some animated stories at http://www.storyplace.org/sp/preschool/activities/
lunch.asp?themeid=1 or http://www.storyplace.org/sp/eel/activities/
threelilcritters.asp where you can even give names to the characters.

(There's a thematic index of all the preschool tales at

http://www.storyplace.org/sp/preschool/other.asp)

It doesn't stop there. The Spanish side of the site also offers printable games, mazes and activities featuring characters from the stories, and a section of short reviews of Spanish-language children's books.

We have the librarians in Charlotte-Mecklenburg County, NC to thank for all this. They launched StoryPlace "to provide children with the virtual experience of going to the library and participating in the same types of activities the library offers.

"StoryPlace currently consists of two libraries, the Preschool Library and Elementary Library with new activities and themes being added each month."

If you'd like to find out more about the history and mission of this fine bilingual project, visit http://www.storyplace.org/about.asp

2. Health information in a fabulous format

Dr. Tango has a truly marvelous webside manner, whoever s/he is. The good doctor has put together a large, authoritative, and graphically rich medical information site, all in Spanish. You can get to it via a number of avenues, thanks now to the good folks at Texas Health Resources. Try http://www2.texashealth.org/ESP/index.asp just for starters.

The package comprises three primary areas:
· The Enciclopedia de Salud, with definitions and explanations of medical terminology, resides at http://www2.texashealth.org/ESP/drtango/encyclopedia/index.asp
· You'll find a pregnancy and childbirth information center at http://www2.texashealth.org/ESP/drtango/healthCenters/pregnancy/index.htm
· And a child safety guide, replete with pictures and facts on everything from tarantulas to bicycle helmets, awaits caring parents at

http://www2.texashealth.org/ESP/drtango/healthCenters/childSafety/default.htm

The "Healthtools" splashpage has links to all three, and more: http://www2.texashealth.org/ESP/drtango/healthtools.asp

And here's a little bonus tip from Flaco: Those of you who study español in your spare time and are looking for labeled diagrams with those hard-to-find body parts like the paratiroides and zigoma should head straight to http://www2.texashealth.org/ESP/drtango/encyclopedia/bodyParts/bodyareas.asp

Want to read more, in English, about this service and how it came to be? See http://library.northernlight.com/FD20011211290000124.html?cb=0&dx=1006&sc=0#doc


3. Poetry forum serves writers and readers in Spanish

I'll bet you're wondering about Gabriel Juárez, whose poem is quoted above. No, he's not a famous wordsmith, but one of the 400 Spanish-language poetry enthusiasts whose work enriches a well-designed online forum called the Portal de la Poesía Virtual. The site enables writers to publish their work, discuss their craft, and search for information and inspiration.

Juárez's entire poem, by the way, is posted at http://poesiavirtual.com/index.php?ir=ver_poema.php&pid=1667


4. Connecting globally with rural Mexico

You might recall that back in SOL 66 we featured JC Lopez's Huandacreo.net, a slam-bang virtual community centered, geographically, in Michoacán but really everywhere at once (a means, as Perfesser Phil Agre might say, to conduct "collective cognition" in the diaspora, wow). Well, the November ish of Hispanic featured a little Mexican town that's gone digital in a big way–a link to home, for many, and a whole lot more besides. Read about it at http://www.hispaniconline.com/techn&/pages/01_nov_email.html
http://libraryjournal.reviewsnews.com/index.asp?layout=criticas Here you'll find useful insider's guidance on the ins and outs of this growing and idiosyncratic subculture of the publishing world.
---